I am a gifted shopper. This dubious ability is the direct result of a childhood then work life spent at Nordstrom.  Once I had first son Sweetie Boy, the math favored staying home with him, and thus my shopping habits shifted from Nordstrom-Nordstrom-Nordstrom to Target-Sometimes Nordstrom-But Mostly Target…the Nordstrom of big box stores.
My love for Target is boundless, and of course I follow @Target and @TargetStyle on Twitter and Facebook. I am well-versed in their clever and mostly successful partnerships with well-known designers to bring the unwashed masses high-end merchandise at low-end prices.  I have been hearing about the Missoni for Target launch for months.  The marketing effort surrounding the Missoni Collection for Target has been relentless and brilliant; social media, print, Pop-Up store, a unique angle in every single September fashion magazine, innovative shoppable videos and commercials featuring fresh young nepotism beneficiary; Margherita Missoni.
It worked.  Target got me, again.  I never liked or understood the appeal of Missoni designer clothes.  I can't recall lusting after a single knit mélange in all the many years I have seen the brand hanging in Nordstrom Designer departments.  But the moment I saw those same patterns wrapped around a pillow and sassing up luggage, those zigzags and stripes suddenly became less Bill Cosby and more MUST BUY!!!!   And so planned, and plotted and strategized.  I studied the look book, checked and rechecked store opening times, made a list, and checked it thrice.  Yesterday I rose at 5am to get an online jump on my West Coast competition.  I planned to drink a leisurely cup of coffee while filling an online shopping cart of Missoni faves just in case my bricks-and-mortar tricks hit a wall (get it?).  Ha!  Silly me, I spent the next hour staring at a screen dominated by a Target Bullseye dog chirpily repeating the same lie…"Target.com s temporarily unavailable."  Bullseye is a lying sack of canine, I still haven't gotten online at Target.com despite repeated attempts.  My mobile site efforts proved more successful, but only at verifying how super sold out everything seemed to be fore I had even left the house.  Yet I remained calm.
I arrived at my secret suburban Target destination at exactly 7:45am.  My scouting lap through the parking lot revealed about 15 other Missoni stalkers trying hard to look nonchalant.  I parked near the entrance and got out of my car, which was apparently taken as a signal to the other parking lot lurkers to Go! Go! Go!  Moments later I found myself in a skittish huddle in front of familiar red doors.  I tried to snap a friendly picture for Twitter, but everyone ducked instead of waving as I suggested.  I sought revenge for their disobedience by taking this picture of their butts instead:
By the time the doors opened, 40-50 anxious shoppers rushed through in search of clashing patterns, fueled by the threat of limited supplies.  I raced passed the clothing, snagging a few scarves as I passed by.  I was ahead of the pack, arriving in household goods in time to grab the two pillows.  Meanwhile, treasure hunters arrived clearing the entire towel display before I had even turned around.  So I ran.  Yes I raaaan. I ran so far awaaaay…actually only about 8 aisles, that's my limit.  As I ran, I was able to get a "working person" as Sistafoo calls the redshirts to confirm that the ottomans I want are online only…at least so far.  I arrived breathless at the end cap in home accessories where I faced a sparse display of vases, frames, and votive candle holders.  In the 15 seconds it took to gather 5 votive holders and a picture frame, I heard and felt a giant sucking sound.  I turned, running again, and blindly grabbed at a display being eaten alive by men, women and children who were executing a finely coordinated assault that stripped all available dishware from the shelves except for the lone decorative glass platter I risked my life to rescue.  At this point my retail survival instincts and wiles kicked into mercifully high gear.  I consulted my mind map for the store schematic and my mental list of predicted bestsellers.  Then I zigged and I zagged and I made womenz madd.
My beloved red suede bow flats from Isaac Mizrahi for Target delivered me to the luggage department where I loaded the black and white set into my cart milliseconds after a lucky sole claimed the last multi-colored stripe.  I heard a familiar beep and nearly dragged a friendly red-clad young thing to the display where I politely asked about back stock on the mufti-color sets; "there's one."  I told her I would come get it from her in a few minutes.   "No way absolutely no holds," she said, and so I waited an interminable two and half minutes to collect a very cute luggage set that I absolutely do not need.  But my god, it's cute, very cute.
The next two hours were a multi-colored blur of tactical moves, high level negotiations and awkward moments; including three near altercations requiring me to use my mommy-voice to stop bad behavior?  Using  a combination of sweet-talk, basic manners and encyclopedic recall of the Look Book, I was able to coax items from the stockroom that had not quite hit the floor, including boots, throws and infiniti scarves for the benefit of more than just myself of course.  Like any veteran shopper I took several final laps, checking customer service and the dressing room area for go-backs and rejects.  By the time I was done I had a fully-loaded and well-organized cart, overflowing with saturated hues. 
And then things got scary. 
The store started filling with people, the kind of leisure shoppers who expect to be able to sleep in, and STILL get the best selection.  Angry stares started singeing my uncombed hair.  I was being followed and peppered with questions; are you really buying all of that? Where did you get ____?  Is there anything you don't want?  Geez, what time did you get here?  Broken up by innocent queries from genuinely perplexed everyday shoppers; "Excuse me, can you tell me what this is all about?"  By the time I drove my cart to check out the crowd had grown hostile; scolding other early birds for being "disgusting" and bitterly complaining to the store manager about the empty shelves.  I don't really blame them.  The only thing worse than missing out on a deal is discovering you missed out by just "this much."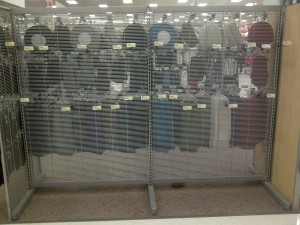 A kind posse of Target employees gathered to unload my haul onto the conveyor belt while we traded retail war stories.  I looked at the total and realized it was my largest Target purchase ever, which didn't really scare me as I was purchasing for other people and had gotten multiple sizes for daughter Sistafoo to try at home.  The cashier ran my card Denied. WTF?  So rather than cause a scene, I paid cash.  I still had that creepy sense of being watched, so as my purchase was loaded into to two carts, I took a quick glance around and discovered every set of eyes in the checkout lanes focused with laser-like accuracy straight on me.  I gulped, and whispered, "I think I am going to need an escort to get to my car safely."  An assistant manager helped me run to my car. 
When I was safely locked inside my car with my finds, I checked my phone.  The first message I read was a fraud protection alert email from my credit card company.  The second and third and so on, were emails, texts and tweets from fellow Missoni stalkers cheering or jeering depending on their success.  At school pick up I began the process of connecting this Missoni item, with that owner.  Later as I set up what looks like a Missoni showroom in my living room, I talked to another friend who had wandered aimlessly through her local Target, searching and searching for Missoni.  Finally she saw an employee holding a lone Missoni shoebox.
"Where is all the Missoni stuff?" she asked.
"This is it." said the employee, and opened the lid to reveal an empty box.
"The shoes that were in this box were really cute." She added.
Luckily my friend has a good personal shopper, I was able to hook her up—no markup, no eBay.  'Cuz i'm cool like that.